Welcome to Summerville Elks Lodge 2719 and our Official Lodge Web Site.
We invite you to visit the site, and then come visit our Lodge.
We are proud to be a 100% Volunteer Lodge!


Our Business Meetings are held the 2nd and 4th Tuesday of each month at 7:30 pm with exceptions in July, August, and December.
These meetings are open to members only and the Lounge is closed during the meeting.
Cheeseburger Grinders will be served before the meeting around 6 PM on Tuesday, October 11th for $6.00.




2016 8-ball Pool League
Sign-up Sunday, Sept. 18 through Friday, Sept. 30
Go to Our Lodge, Posts and Requests page for details

Saturday Night at the Lodge
Every Saturday the Lounge is open from Noon to 9 pm
Regular Menu Noon to 3:00 pm
Ham Sliders with Pasta Salad and Dessert for $7
on October 1st starting around 6:00 pm
Please see Bartender to sign up and pay in advance

Live Acoustic in the Lounge!
Saturday, October 1st, 6 pm
with Steve Hawkins

Jacksonville at Tennessee
Thursday, October 27th
Football Party at 6 pm - Free Food while it lasts

Veterans List Update
We're updating our list of members who are Veterans
in order to recognize you at the Veterans Day Ceremony.
If your name is not on this list,
please email the following information to Bob
Full Name, Branch of Service, Dates of Service (years only), If Retired Military




| Lodge Hours | Kitchen Hours |
| --- | --- |
| Monday through Friday from 5:00 pm | Fridays 6:00 pm to 8:00 pm |
| Saturday Noon to 9:00 pm | Saturdays Noon to 3:00 pm |
| Sunday Noon to 7:00 pm | Click here for the Menu |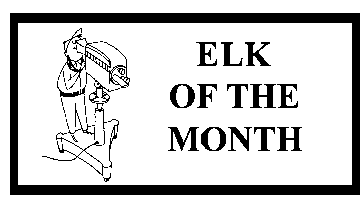 ***** Lori Harrison *****