Welcome to Summerville Elks Lodge 2719 and our Official Lodge Web Site. We invite you to visit the site, and then come visit our Lodge.
We are proud to be a 100% Volunteer Lodge!
Our Business Meetings are held the 2nd and 4th Tuesday of each month at 7:30 pm. During July and August, meetings are held on the 4th Tuesday only. During December, the meeting is on the 2nd Tuesday only. These meetings are open to members only and the bar is closed during the meeting. Dinner is served prior to the meeting.
Memorial Day Ceremony
In conjunction with the VFW and American Legion
Summerville Cemetery (also known as Park Cemetery)
Monday, May 30th, 10:00 am
Speaker: Summerville Mayor Wiley Johnson, retired Lt. Col. USAF
A Luncheon will follow at the Ladson VFW, Bellwright Road


Happy Memorial Day
The Lodge will be open normal hours all weekend including Monday.
Remember: Freedom isn't free. Thank a Vet!

Elks Habitat for Humanity Days
Saturdays June 11th and 18th
You don't have to go both days
2 Homes at 302 Rambo Drive, Summerville
Please wear an Elks shirt if you have one
We'll present the Grant Check one of the days
If interested in helping out, contact Sandy at 413-695-6194



| Lodge Hours | Kitchen Hours |
| --- | --- |
| Monday through Friday from 5:00 pm | Fridays 6:00 pm to 8:00 pm |
| Saturday Noon to 5:00 pm | Saturdays Noon to 3:00 pm |
| Sunday 1:00 pm to 6:00 pm | Click here for the Menu |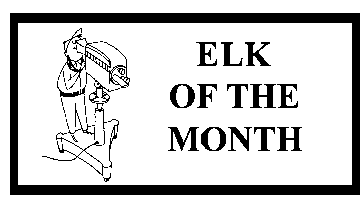 ******* Becky Rado *******